credit: k bites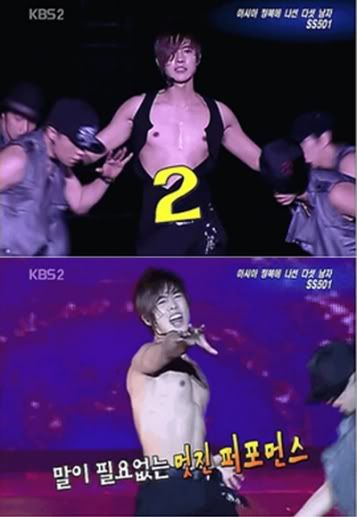 Group SS501 member Kim Hyun Joong has been given the nickname of 'JjikJoong' for his solo performance during SS501's first Asian concert tour Persona held in Seoul on 1st and 2nd August.
For his solo performance, he put up a sexy choreography and then tore off his top showing his upper body in front of fans during the concert. And this has received overwhelming responses from fans, and fans are starting to call him 'Jjikjoong (short for HyunJoong who tears off clothes)'.
And various 'JjikJoong' videos are also uploaded and circulated on discussion boards and blogs after that. Fans are also a little disappointed after knowing that HyunJoong continued with the 'JjikJoong' act for their Japan Budokan performance on 13th August.
Fans said, "Is he going to do that for all the countries they are performing in?", "It is a shame we have to share such a moment with fans in other countries as well" etc.
Meanwhile, SS501 will comeback with their 2nd album middle of next month. They will continue with their concert tour in October to countries like Thialand, Taiwan, Singapore, Malaysia, HongKong and China.