Credits: Hankooki + (Chinese translation) 蕊蕊@ MRET|www.kimhyunjoong.com.cn + (Enlish translation) SS5014ever @ WS501|quainte501

SS501's Asia Tour first stop Seoul backstage
Completed preparations for concert, presented perfectly
Male group SS501's Asia Tour has opened magnificently.
The past month, the members have been practicing non-stop day and night for this Asia Tour.
The members who've reunited after carrying out thier solo activities, will let the fans see a wonderful performance that has gone through careful preparations.
Sources say, the full rehearsal at the stadium 4 days ago, has already caused everyone to anticipate being at the concert even more.
SS501 held their 1st stop of their Asia Tour at Seoul Olympic Park on the 1st and 2nd of August, spending a wonderful 2 1/2 hours with over 20,000 fans present, when the performance started, Kim Hyeon Jung said to the gathered fans, "We'll be together forever!"
____________________________________________________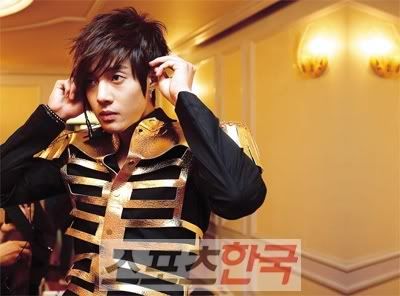 In the past month, these 5 boys left marks of their conquer of Asia in Korea's stadium.
Round 1: Revealing the backstage during rehearsal.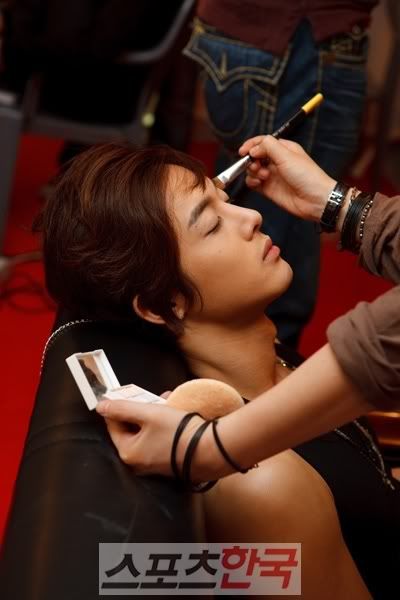 #1 Reason for him resting like this?
Member Kim Hyeon Jung likes to close his eyes during make-up, as this concert is of great importantance to everyone, so his state of mind has perpetually been at a state of nervousness, it is still very effective to close his eyes and rest during make-up.
#2 Seriously checking shoelaces
On-stage, the youngest and the one who loves to act cute the most, Kim Hyeong Jun is currently seriously checking his shoelaces, doing last preparations for the performance, his performance on stage this time round is surprisingly strong.

#3 Pull yourself together
It's SS501's first time holding an Asia tour, the members all feel very nervous. As the time to go on stage draws closer, to relieve stress, everybody brings up the atmosphere in the dressing room. Before member Kyu Jong performs his solo song "Woose up", smiles to the mirror, giving moral support to himself.
#4 All ready
Member Jeong Min's solo stage time is nearing, he raises his gloved hands and says to the camera, "My body's starting to get excited."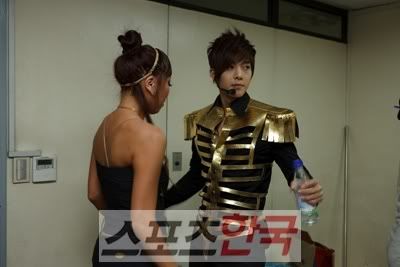 #5 Last moment
Kim Hyeon Jung and the female dancer practices together,
this is a break through performance for this Asia tour,
he'll be tearing his clothes during the performance, showing his well-toned body,
a certain amount of understanding is necessary for the cooperation, this is also a hard preparation.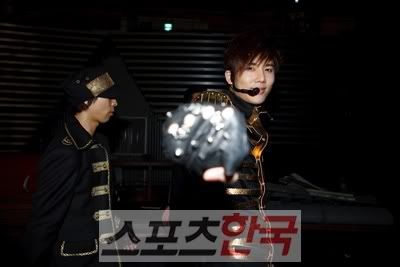 #6 Tightly clenched fist
Kim Kyu Jong, smiles confidently as he clenches his fist tightly,
because the members have been working hard at preparing for the past month,
so they're all very confident for the performance.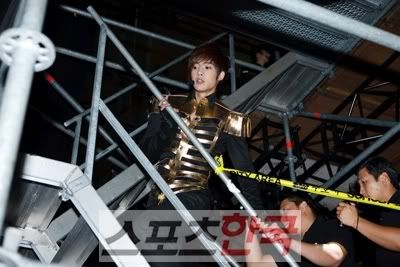 #7 Careful careful
In order to drop down from 2 story high onto the stage to meet with fans,
Kim Hyeun Jung, with the help of the staff, slowly but magnificently drops down onto the stage.
#8 Shy smile, fighting
Among the members, forever the prince of smiles, Heo Yeong Saeng smilingly stands on the elevating platform.
His solo performance this time "Nameless Memory", will be a new break through to everyone.