I was on soompi doing my usual lurking ( I'm so ashamed that I don't post much TT___TT;;), the girls are just undeniably awesome and their CSI-ing is just ridiculously good!!!
Tacvera and michsann mentioned about another Joongbo moment on the Starry Night Radio show, so I watched it for myself O.O
..and indeed,
JUNGMIN IS AMAZIIIIING.
They did a skit where they changed the names of
Shining Inheritance/Brilliant Legacy
(My recent drama addiction) to themselves.
Park Jungmin - Narrator
Kim Hyunjoong - Sun Woo

Joong

(original character Sun Woo Hwan)
Park Kyung Lim - Go Eun

Park

(original character Go Eun Sung)
Kim Kyujong - Grandfather (original character President Kim/Grandmother)
Heo Youngsaeng - Go Eun Sung's friends
Kim Hyunjoon - Sun Woo Hwan's friends
BUT, as the skit progresses, Jungmin made a mistake and called Park Kyung Lim's character as
Go Eun Bo
. Did he do this on purpose to tease Hyunjoong? Was he thinking of Hwang Buin? xDD
screencap credits: michsann@soompi + ibreathlifemusic@yt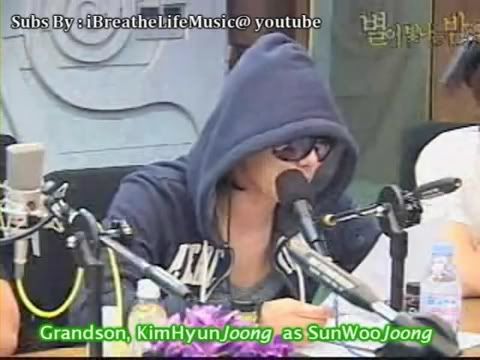 Sun Woo Joong + Go Eun Bo =

Joongbo

!! xD

And here's the aftershock!!

Screencap credits: shirbogurl21 on Youtube + my imagination hahahaha!


Mal Omma IS THE BESTTTT!!